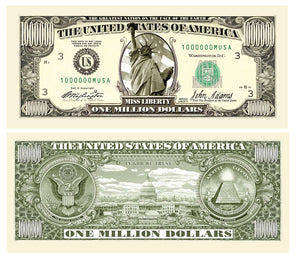 Limited Edition Million Dollar Statue of Liberty United States of America Bill 
Same look, feel, and size as real money.  Printed in the USA!
Full color printing on front and back with high-quality detail
Every bill comes in a plastic currency holder (high clarity, semi-rigid PVC vinyl; made in USA)
Great gift for collectors, family and friends. 

Orders of 1-2 bills ship in a white letter envelope via USPS First Class Mail (no tracking).  Orders of 3+ bills ship in a bubble mailer via USPS First Class Package (with tracking).

Contact us at info@TrumpMug.com if you're interested in purchasing a bulk quantity of bills (with or without holders).