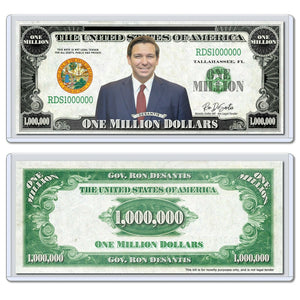 Limited Edition Ron DeSantis Million Dollar Bill Novelty Funny Money Bill 
1 Million Dollar denomination with the Great Seal of Florida
Same look, feel, and size as real money. 
Custom designed and printed in the USA by an American small business!
Full color printing on front and back with high-quality detail

Every bill comes in a plastic currency holder 

Great gift for DeSantis and Trump MAGA supporters, collectors, family and friends.  

Also a great item for triggering liberals.